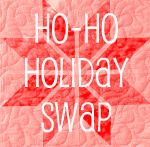 I joined the Ho-Ho Holiday Swap a little while ago and received two of three fat quarters from the gals in my group. (The third one should be coming soon.) We were put in groups of four and were instructed to mail three red, green, or white fat quarters to each member of our group. We were then paired up with a partner out of that group and are supposed to make an ornament using at least one of the fat quarters we received. Here's what I've been sent so far.
Don't you just love how it's folded? I haven't wanted to unfold it since it's so cute.
The fabrics don't go well together AT ALL, so I hope the third fat quarter I get blends well with one or the other. Otherwise, I'll grab something from my stash. You may not be able to tell from the picture, but the reds are totally different.
I've been trying to come up with a small project idea for my brother-in-law because he loves coke. Maybe I can make him a warm drink cosy or something.
For kicks, I looked through this book my mom has had since the 70s for ornament inspiration. I didn't find much, but it was fun to look through.
Some cute appliqué. Love that train at the top.
The paper mobile on the left reminded me of
this
from Erin at
Two More Seconds
.
Although the photo picture quality is pretty terrible, I love the lime green and red combo in these decorations.
I decided on the ornament design for my partner, but I want to keep it a secret until I send it to her. It's not a traditional Christmas design, but I think I can make it work. I'm excited.
Have you participated in any swaps that you've totally loved? I want to get involved in more, so I'd love to hear about any you've participated in.
On an unrelated note, I may be MIA until after the weekend. The women in my church group are getting together for a craft day on Saturday (Super Saturday) and I was silly enough to put myself in charge of four of the six projects we're doing. The mister (bless his soul) has to make 175 cuts of wood for me tomorrow. If I survive the weekend, I'll show you the Christmas sewing I've been doing.