This isn't the giveaway post I mentioned yesterday. Check back tomorrow for those details.
*****
As you know, I'm part of the AccuQuilt Blogger Program. I received this email last week and thought it sounded so great that I wanted to share:
Join in some campfire fun for a chance to win great prizes totaling over $1500! Fons & Porter, Fabric.com, and AccuQuilt have teamed up to provide us all with a huge giveaway on Facebook. Simply "Like" these Facebook pages and gain access to all three sections of a secret code that unlock your chance to win! Follow the camp trail on the bottom of each sponsor's page and it will take you to the next campground to retrieve the next section of code. Once you've captured all three pieces of the secret code, go to
www.accuquilt.com/indianblocks
and enter the full code to register to win!
Your summer camping trip begins at AccuQuilt, so get GO!-ing at
http://www.facebook.com/accuquilt?sk=wall#!/accuquilt?sk=app_10467688569
The contest runs through Monday, August 29 with three winners chosen at random on Tuesday, August 30.
And while you're at it, sign up for the AccuQuilt newsletter to receive 22 free patterns by clicking the picture below.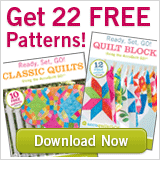 Good luck!